Confirmation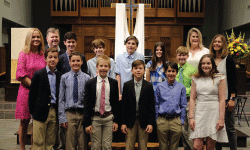 STARTING THE INTENTIONAL FAITH JOURNEY
University Park UMC's Confirmation Class is a year long program designed to give our youth more in-depth study of the history of Christianity and United Methodist beliefs and practices to prepare them to live the life of a United Methodist Christian. The class makes up mostly 6th graders, but other ages are welcome. 
The curriculum aims to empower youth to explore their faith and ask the questions they actually wonder about the Bible, creed, disciples, Jesus, other beliefs, and hot topics. These topics are addressed in different creative ways. We are proud to recognize our teachers have a strong commitment to knowing these youth, and giving them space to ask questions. 
We will offer a weekend retreat, as well as a half day service opportunity. 
There is great excitement about this program and the foundations it sets for the future. If you or someone you know might be interested in participating in Confirmation (at any age) or helping in a coordinator role, contact Ezri Gomez, egomez@upumc.org.