UPUMC Music Ministry
WELCOME TO UPUMC MUSIC MINISTRY
The Music Ministry at UPUMC provides inspiration to those who seek expression of God's grace and love through the performing arts. Directed by Mark Pope, Minister of Worship, our adult choirs lead music during Sunday worship services. Accompanied by Clinton Bray, UPUMC organist, they provide music that complements the message with styles ranging from Renaissance and Baroque to Classical and Modern.
In addition to our adult choir, we also offer choir for our children. More information on our children's choir options here.
Our choirs are considered communities within our church with activities outside of choir practice as a means to create connections and grow in your spiritual journey. We believe all are talented when it comes to spreading God's love so all are invited to be a part of the music ministry at UPUMC.  
CHOIR REHEARSAL SCHEDULES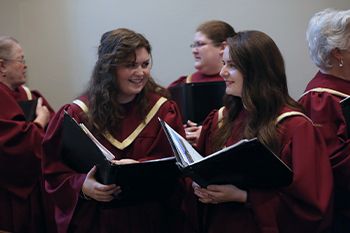 Chancel Choir
Chancel Choir (College/Adults) 
Wednesdays, 7:15-8:45pm, Room 201 
Chamber Singers
Chamber Singers (College/Adults) 
Selected Sundays, 12:15-1:15pm, Room 201
Overtones Handbells
Wednesdays,  6-7 p.m., Sanctuary

 
Stay Connected
Stay up to date on upcoming choir activities, practices and performances by signing up for the UPUMC Music Ministry newsletter.
---
Contact
For more information about our Music Ministry, please contact:
Mark Pope  |  Minister of Worship  |  214-368-1435 ext. 159  |  mpope@upumc.org