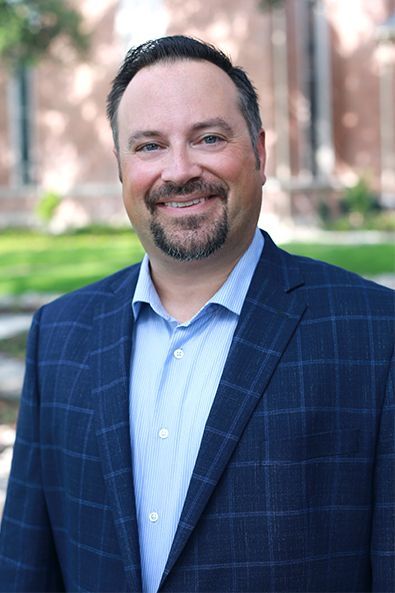 Rev. Joe Stobaugh
Senior Pastor
Rev. Joe Stobaugh is the Senior Pastor at University Park United Methodist Church, in Dallas, Texas. Joe has been in full-time ministry for nineteen years and has served in a variety of roles in United Methodist churches across the Texas, including Pastor of Modern Worship, Executive Minister of Worship and Arts at Grace Avenue United Methodist Church in Frisco; Associate Pastor and Cantor and Curator of Worship at Argyle United Methodist Church; Associate Pastor and Minister of Worship at Travis Park United Methodist Church, in downtown San Antonio; and Associate Pastor and Minister of Worship at First United Methodist Church in Longview.
An ordained clergyperson in the North Texas Conference of The United Methodist Church, Joe has been a featured preacher, teacher, worship designer, and musician at conferences across the nation. Joe was the youngest elected National President of The Fellowship of United Methodists in Music and Worship Arts, the denominations guild for liturgical artists, musicians and preachers.
Rev. Stobaugh holds a Bachelor of Music degree from the University of North Texas (where he studied music education and saxophone) and a Master of Sacred Music degree (Magna cum Laude) from the Perkins School of Theology and the Meadows School of the Arts at Southern Methodist University. A passionate learner, Joe has taken additional graduate work at Perkins School of Theology, St. Paul School of Theology, and is a doctoral candidate in leadership and spirituality at The General Theological Seminary in New York City.
Joe's ministry related passions include preaching, teaching about connection to God through spiritual disciplines, leadership, culture care, empowering congregational participation in worship, social justice and peace ministries, and bridging the world and the church.
Joe loves spending time with his wife Sarah, their two children, Ellie and Sam, and their Labradane, Buddy. He always looks forward to making music (you can find Joe's music on the streaming platform of your choice), traveling, playing golf, and obsessing over Dallas Stars hockey.